Current item availability
18 089 products in total
13 644 products available within 4 days

Free parcel shipping
from 5 different items in the shopping cart.
*valid for delivery within Germany

Special conditions
for refrigeration system manufacturers and bulk buyers.
Ask for your conditions today!
The FrigoPartners recommendations

Competent advice
Over 12 years of market experience make us a competent partner for everything to do with refrigeration, air conditioning and ventilation technology.

Everything from one source!
With us you get everything from a single source. If you are missing a product in our range, please contact us at any time.
High customer satisfaction
More than 48,000 customers already trust us - our steadily growing number of regular customers is an indicator of high customer satisfaction - and an incentive at the same time.
About Us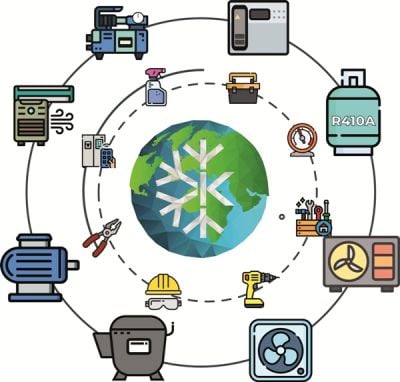 Our Team
Overall, we are characterised by our desire not only to offer the widest selection of Refrigeration, Air Conditioning and Ventilation Technology, but also to help our customers make their choice by providing the best possible service.
The best teams are made up of strong, smart individuals - each bringing their own strengths to the table. Meet our talented team, the people behind the ideas that drive FrigoPartners.
Get in touch with us, whether by phone, Live chat or Email we will be happy to take care of your request and help you as quickly as possible!
The largest refrigeration selection on the internet
The largest refrigeration selection on the internet!

WELCOME TO FRIGOPARTNERS.COM, YOUR EXPERT FOR AIR CONDITIONING AND REFRIGERATION TECHNOLOGY.
If you are looking for refrigerants, refrigeration technology, cooling technology or products related to air conditioning technology, our shop is the right place for you. Here you will find a large selection of products from well-known manufacturers. Our keyword search always provides you with a compact and practical presentation of the theoretical principles of refrigeration, refrigerants and system technology.
Refrigeration products for your needs

We are always striving to further expand our product range while remaining true to our principle: professional quality at top prices. If you are therefore missing a product in our range, we would be pleased to hear from you - we can certainly offer you the desired product in professional quality at a top price. Our range is not only aimed at refrigeration technicians but also at career changers from various related industries.
Our wide product range with over 18900 products offers everything your refrigeration heart desires. Not only refrigerants, but also a complete range of air conditioning tools, assembly materials and other interesting products such as piggyback units, outdoor and indoor units, cold rooms and cleaning agents for various applications are waiting for you.

Thanks to our many years of experience, we can offer you excellent quality at a good price.
Now we hope you enjoy browsing through our range.
We will be happy to advise you personally on our products and all aspects of refrigeration and air conditioning technology.